TransAkron Raises Awareness and Shares Stories of Akron Transgender Community
The Gay Community Endowment Fund (GCEF) of Akron Community Foundation has unveiled a new photojournalism series aimed at fighting stereotypes, increasing inclusion for the transgender community, and celebrating Pride Month.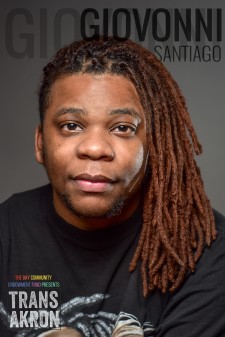 Created by award-winning photographer Shane Wynn and writer H.L. Comeriato, the TransAkron series shines a light on trans, nonbinary and gender-nonconforming people in Akron, Ohio. The project captures the lived realities of these individuals and tells the stories of their journeys while adding a data-driven narrative about the transgender community nationwide.
The photos and stories can be viewed online at TransAkron.com.
The TransAkron project is part-narrative and part-resource, and at the Gay Community Endowment Fund, we are proud to be on the front lines of advocacy through storytelling.

PHIL MONTGOMERY

CHAIR, GAY COMMUNITY ENDOWMENT FUND OF AKRON COMMUNITY FOUNDATION
The TransAkron series features the stories of eight individuals, including U.S. veteran Giovonni Santiago, who opened the country's first transgender-specific clinic in the Veterans Affairs system, and Rylee Jackson, who, after experiencing a dozen foster homes and four different high schools, found joy through her love of dance.
"The idea of TransAkron originated in early 2017 when I had a conversation with Shane Wynn — a local artist and advocate — about her photography and how we could use images to humanize people and advocate for the GCEF's important work in the community," said Phil Montgomery, advisory board chair of the Gay Community Endowment Fund of Akron Community Foundation. "The TransAkron project is part-narrative and part-resource, and at the GCEF, we are proud to be on the front lines of advocacy through storytelling."
TransAkron was made possible thanks to funding and support from the Gay Community Endowment Fund and several community partners, including ArtsNow (an innovative nonprofit that connects arts and culture through collaboration) and the EXL Center at The University of Akron. The series' writer, H.L. Comeriato, is a former University of Akron student who was identified by faculty member Dr. Heather Braun.
"People are often unaware that their friends, neighbors, civil servants, police officers, doctors, etc. identify as trans," said Nicole Mullet, executive director of ArtsNow. "Breaking down that sense of 'other' helps us come together as a community. We are Akron – all of us."
Established in 2001, the Gay Community Endowment Fund accepts grant applications for programs and services that positively impact the LGBTQ+ community and Greater Akron as a whole. It also raises awareness about equality issues and rallies the LGBTQ+ community around a common philanthropic purpose. Since its founding, the GCEF has invested nearly $475,000 into local causes that change the lives of LGBTQ+ people in the Greater Akron community. Recent grants have advocated for countywide nondiscrimination protections, supported a mentoring program for LGBTQ+ college students, and raised awareness about domestic violence in the LGBTQ+ community, among other critical initiatives.
To support the Gay Community Endowment Fund, please visit GayCommunityFund.org. Gifts of all sizes will make a permanent difference in the LGBTQ+ community. For instance, a gift of $600 could provide safe housing and basic living essentials for one homeless LGBTQ+ young adult, who is more likely to become a victim of violence, abuse and human trafficking than their heterosexual peers. Likewise, a gift of $100 could provide HIV testing and prevention education for five LGBTQ+ people in Akron. All gifts are fully tax-deductible and are invested and grown over time, so gifts made today will continue to multiply for generations to come.
For more information about the TransAkron project, please visit TransAkron.com.