PolarPro's New IRIS Mobile Filter System Lets You Capture Stunning Cinematic Content With Your iPhone X or Pixel 2
Never miss an opportunity to capture another off the cuff moment again with PolarPro's IRIS mobile filter system for iPhone X, iPhone 6/7/8 (and Plus sizes) and Google's Pixel 2 and Pixel 2 XL. Featuring drop-in neutral density filters to control shutter speed, professionals to casual content creators will find the IRIS filter system useful, expanding their smartphone's camera capabilities to produce smooth, cinematic content.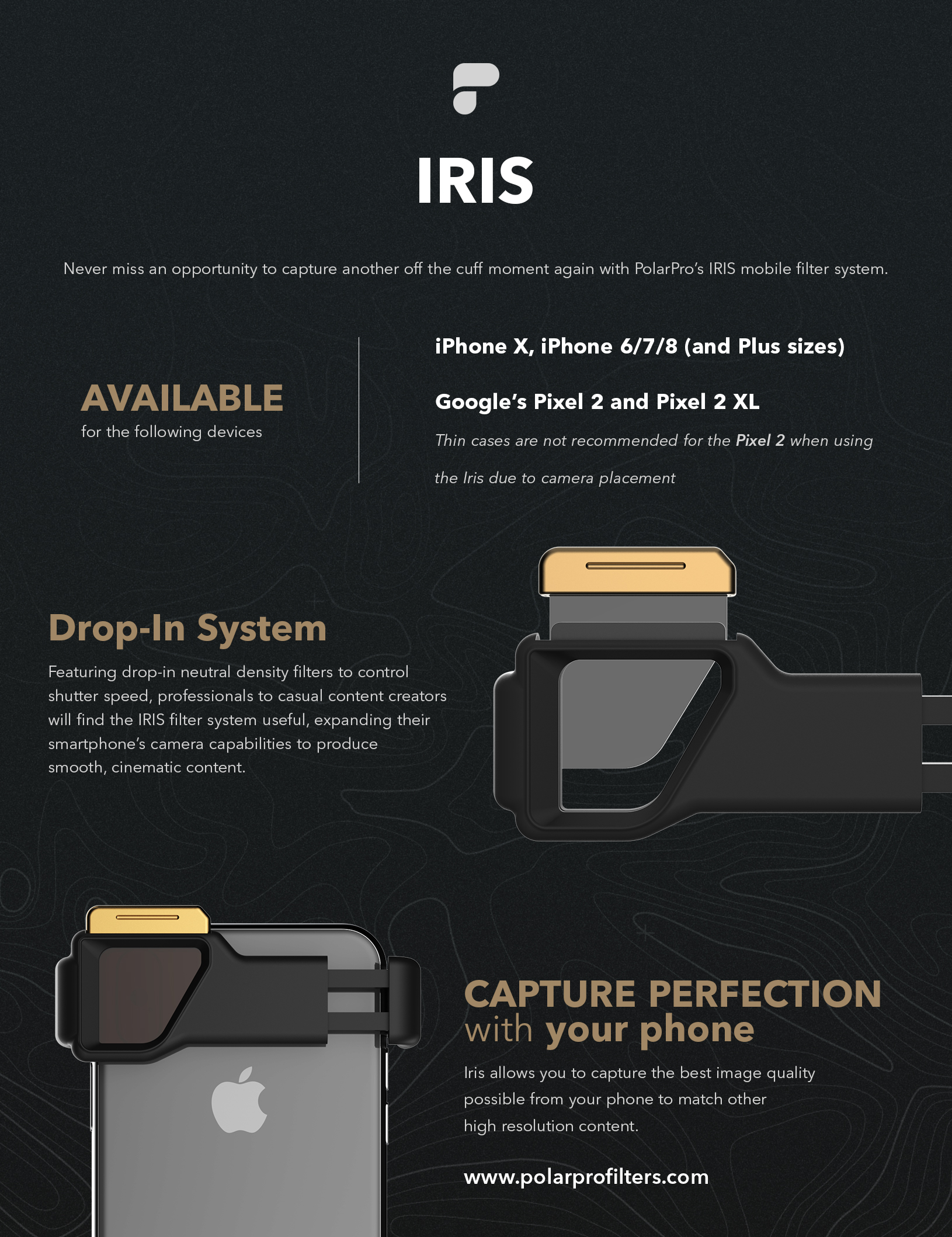 IRIS gives content creators complete creative control to tell their stories just how they were imagined. For those times that you are caught without your primary camera, PolarPro's IRIS neutral density filter system helps you capture cinema-style content using your iPhone or Pixel, making it easier to tell your story in smooth and stunning 4K detail by giving you the best image quality possible from your phone to match other high-resolution content shot with your DSLR, mirrorless or production level video camera.
"So, we were really excited back when the iPhone 7 Plus came out with 4K video capabilities," says PolarPro CEO and founder, Jeff Overall. "We started shooting a bunch with it, but kept running into the same problem, that the footage never looked consistent next to our other cameras. On a sunny day, the iPhone's 7's shutter speed would be shooting near 1/1000th and when you try to edit that with video shot at 1/50th on a production style camera, it just doesn't look fluid."
PolarPro tackled a similar problem with their flagship ND filters for creating smooth video with drone cameras and has developed IRIS with the same goal in mind for iPhone and similar smartphones like Google's Pixel 2/2XL.
"We wanted to be able to quickly change out camera filters, so we created an easy drop-in system, and the glass had to be color neutral, coated-to reduce ghosting, and sharp with a low refractive index, so we selected our top end Cinema Series glass," says Overall. "One year, and 18 design iterations later, we are excited to launch the IRIS, a mobile filter system allowing you to reduce shutter speeds to cinematic levels and add smartphone video to your multi-camera edits seamlessly."
The IRIS filter mount is built with an expandable machined-aluminum frame, fitting neatly over the top of your camera lens with or without a phone case installed.  When disassembled, the IRIS filter mount and filters fit into a slim hard case that slides neatly into a pants pocket, jacket pocket or small bag, helping you maintain a low profile as you move through your day.  The IRIS filter system includes a filter mount, 3 neutral density filters (ND8, ND16, ND32) and a low profile carrying case, with the ability to add more filters as they become available to further expand your smartphone's camera capabilities.
With IRIS, PolarPro has designed a filter system that meets the photography and video production requirements of a diverse consumer base who's technical abilities range from consumer, prosumer and professional backgrounds, allowing users to capture cinematic quality content on the fly with their smartphone when using their regular camera isn't an option.