Picture Your Name Proudly Presents the Signature Collection of Original Home Décor Featuring Creative Photographic Art Framed With Reclaimed Barn Wood
Dawn DeCourcey, artistic director and owner of the Fredericksburg, Virginia home decor company, Picture Your Name, releases her Signature Collection of photographic art with recycled barn wood frames. The unique concept of "alphabetography," the art of photographing everyday items that appear to form a letter of the alphabet or number, is featured in this signature product line of custom-made home decor signs.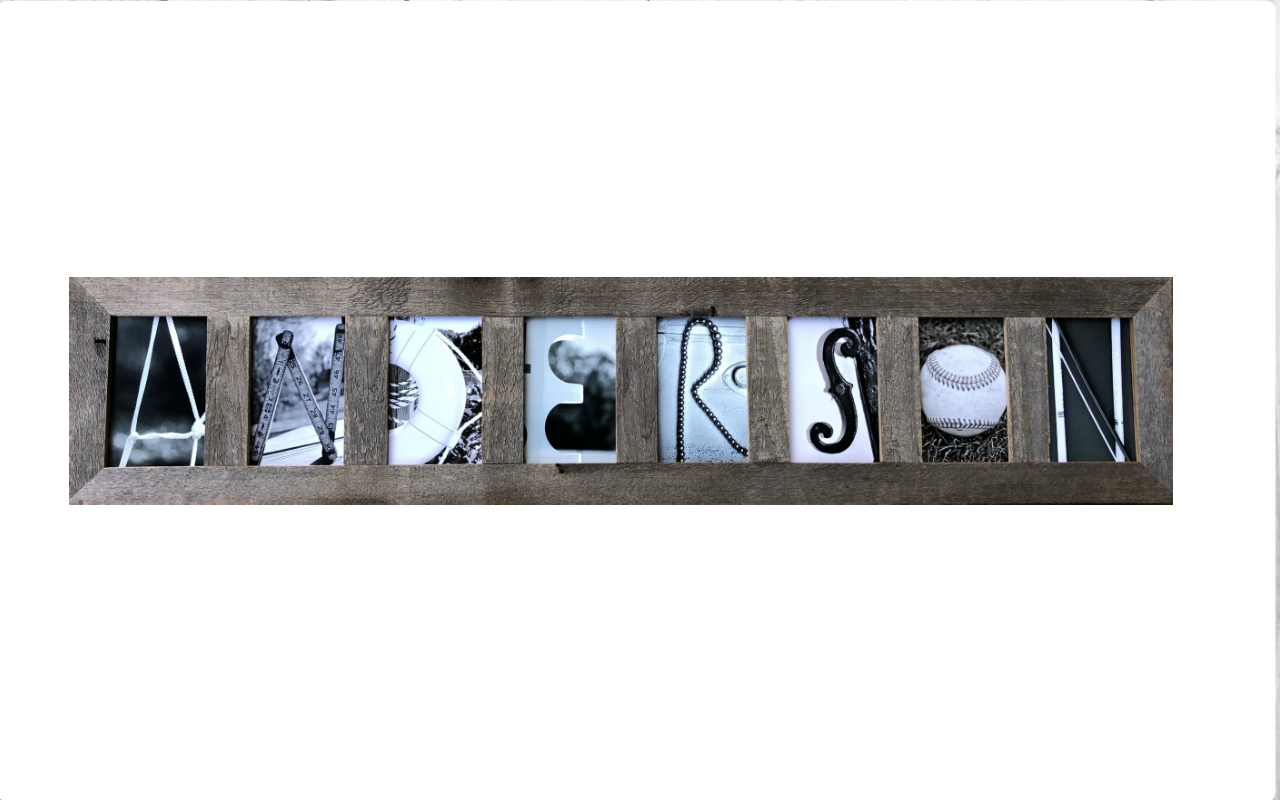 The photographer and designer, DeCourcey herself, combines her creatively captured photographs of numbers and letters into custom names and dates, which are framed as special gifts to commemorate a wedding date, arrival of a new baby, birthday, graduation or other occasion.
After forming the artistic photographic letters into custom designed phrases including names or dates specified by the customer, the designer frames each individual letter and number in a rustic-style picture frame made of reclaimed barn wood.
As a unique way to display a baby name, wedding date, or other special occasion, each item in the Signature Collection will be custom made to order as a conversation piece for those who love to decorate their homes, create family memories, and celebrate the proud moments in life.
Picture Your Name carries the slogan, "Create the Unexpected" as an answer to the "call of the wall," a catchy phrase referring to the search for tasteful home décor items to display on a wall, shelf or fireplace mantel. A custom-made photographic name or date sign from the Signature Collection adds a personal touch to a living room, kitchen, bedroom or baby nursery.
A custom framed wedding date with the names of the bride and groom is perfect as a personalized gift for the happy couple, or as a fun and eye-catching piece of art to be displayed on a table at the wedding reception. A set of artistically photographed letters that spell out a soon-to-be-born baby's name is a creative idea for a unique baby shower gift.
The Signature Collection includes a selection of Picture Your Name's most popular wedding date signs, family name signs, and individual photographic letters and numbers which can be formed into phrases of up to ten characters per frame. Each custom-made sign, framed with rustic reclaimed barn wood, showcases a one-of-a-kind design which will be treasured as an heirloom and proudly passed down to the next generation.
The photographic prints of alphabetic letters and numbers in the Signature Collection are available in black & white, sepia, or colour photography. The neutral tones of black and white or sepia photography lend themselves beautifully to a wide variety of home decor settings, and the rustic barn wood frames fit perfectly with today's design trends.
In addition to individually framed photographic letters, numbers and custom phrases, Picture Your Name also offers printed greeting cards and ready-made signs featuring popular words and phrases about the celebration of life's memorable events and the joy of family togetherness.
The Signature Collection ranges in price from $3.99 to $185.00 and will be released on Sept. 1, 2018, online at https://picturename.etsy.com.
Picture Your Name can also be found on the following social media platforms:
Facebook: https://facebook.com/PictureTheName
Instagram: https://instagram.com/picturenamesby_dawn
Pinterest: https://www.pinterest.com/drenedecourcey
For more information about the Signature Collection or to contact the owner/designer of Picture Your Name, please email Dawn DeCourcey at [email protected].