Shaun Mulhern, a junior graphic designer who is currently studying graphic design at the University of Bedfordshire, created a project for the Rio Olympics in 2016 called Spicy Samba Sauce.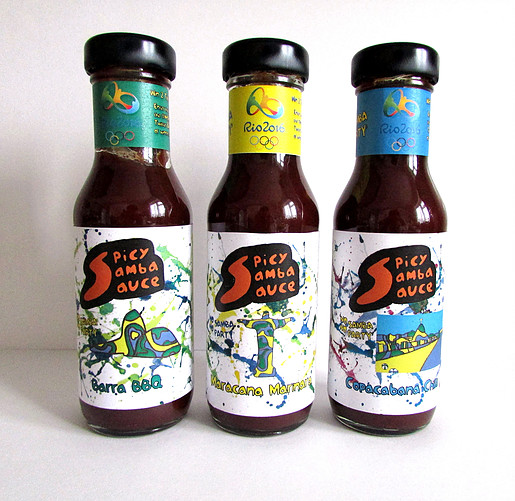 Spicy Samba Sauce was a 2nd year FMP (final major project) packaged product which is dedicated to supporting & promoting the Rio 2016 Olympic games. As a massive fan of sport it only felt right for Shaun to work on a project for Rio 2016. The project brought together his creative artworking skills (illustration, painting) with some digital design (Photoshop, Illustrator) to create a colourful, spicy product to support the massive samba party in Rio. A social media campaign was also created to promote the product.
The project was inspired by Samba the Brazilian music genre and dance style. It also took inspiration from Jackson Pollock and Brazilian Street Art which were the two artistic areas which inspired the design progress for this project.
The Spicy Samba Sauce bottles each feature an illustrated Brazilian landmark (Sugarloaf Mountain, Christ the Redeemer, Copacabana Beach) and three different spicy Brazilian flavours which are Maracana Marinara, Barra BBQ and Copacabana Chili. Each Flavour also features a area of Rio which is holding the games.
The Product itself was a strong FMP which helped Shaun achieve a 2:1 in his second year at University, designing sport products has always been an aspiration of Shaun's and aspires to be involved in the industry in the near future. If you liked Spicy Samba Sauce be sure to check out Shaun's website http://shaunmulhern.wixsite.com/graphicdesigner